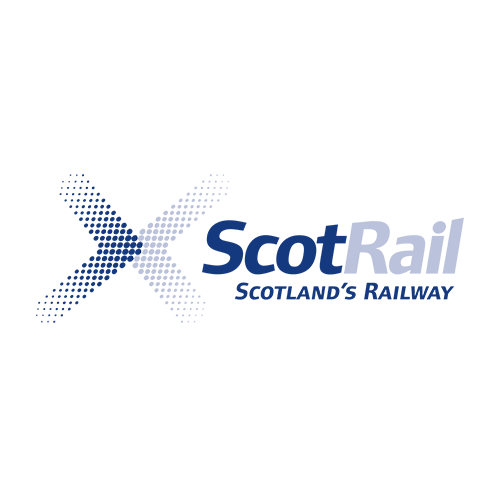 Abellio were awarded the ScotRail franchise in 2015. ScotRail provides over 94 million passenger journeys each year, with over 2,300 intercity, regional and suburban rail services a day, more than 340 stations, and just under 800 trains serving Scotland's railway. The ScotRail network is vital to Scotland's communities, and to the country's booming tourist industry.
Since taking over, we've been busy building the best railway Scotland has ever had. In our first year alone, we launched our largest ever train improvement programme, celebrated the opening of the UK's longest new domestic railway for 100 years, and gave passengers the things they told us would improve their journey; from more reliable internet and better travel information to more ways to save money and places to store bikes. We've helped promote tourism and local businesses, created Community Rail Partnerships, and reduced carbon emissions.
And there's plenty more to come. We have big plans for the future, and a commitment to investing in and improving Scotland's railway, to better serve our communities and the country as a whole.
Our Vision & Values
Our people are hugely important in our business – it's them who make us different. They're an integral part of the communities in which they live and work and bring the best they can to our customers on a daily basis.
With the Network Rail alliance firmly in place, a new ScotRail leadership team and the requirement for us to meet the needs of new trains, timetables and improving infrastructure, we have a great opportunity to achieve our ambition of building the best railway Scotland's ever had.
We're committed to listening to our people. They've helped us define the ScotRail vision and values, creating an identity and structure we can all understand, feel part of and play a role in.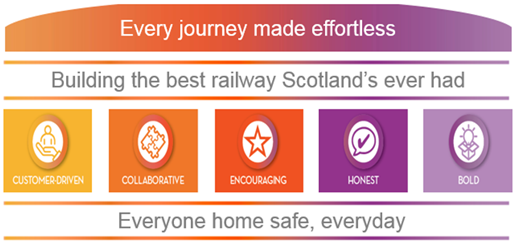 The new ScotRail vision and values tell us:
our aspirational vision for the future where "effortless" should apply to everything – for our people, the business and our customers
our ambition where only the best will do
our values that embody the culture and behaviours we need to represent across the business
our guiding principle that will never change and is based on getting "everyone home safe, everyday"

Achievement to Date
Trains
On routes between Scotland's seven cities, we're introducing faster, more spacious trains with more carriages and new on-board facilities. We will also speed up journeys elsewhere on the ScotRail network by introducing new trains, sharpening timetables and improving connections between our services.
Tickets
Our plans to dramatically increase the availability of Smartcard and online tickets will make journeys more convenient and cheaper. Significant discounts will be available on many current fares to reflect how often and when you travel. Buying tickets will be quicker. At ticket offices and you'll be able to hold tickets for rail, many other public transport trips, car parking and cycle hire on a single Smartcard.
Better connections
We are putting in place a range of new measures to make sure journeys to and from our stations are faster and easier. For example, there will be better connections with buses, new tickets combining rail with ferry and air travel, and we'll create the UK's largest cycle/rail network. New customer information sources will provide full details on all transport choices to and from ScotRail stations, including walking and cycling, putting you in control of your journey. We want to have a key role in delivering a truly integrated national transport network. Some train journeys will become an experience in their own right. We are designing services in the most beautiful parts of the country to become a world class attraction, and accommodate new steam services run by specialist operators on a number of routes.
Better travel
The ScotRail franchise represents a landmark, not just for the railway and its passengers, but for Scotland as a whole. ScotRail is becoming a national asset which the country can be proud of, for its part in helping to build prosperity, better quality of life and a fairer society throughout Scotland.
Abellio
Abellio believes in a social duty to passengers which extends beyond the journey of our trains. The passenger is at the heart of everything Abellio and ScotRail does. The delivery of safe, reliable and comfortable services is the starting point for every transport provider, but that is not enough for Abellio. Our services must play an integrated role in the socio-economic development of the societies we serve.
Contact
If you need any assistance with the recruitment process please contact the team at recruitment@scotrail.co.uk
0 Vacancies
Currently there are no vacancies available. However, please register your details using the button below:
Register interest